Keeping your kids hydrated, especially when they're out and about, is super important for their health and general well-being. Your baby can drink water at six months old in small amounts when they start eating solid food. As they get older, their need for water increases, and soon enough, you'll be searching high and low for the best water bottles.
With so many different kids' water bottles available, how do you know which ones are better for your child? It goes without saying that the best water bottles are completely leakproof, easy to clean and carry, and that your child will love using it - like the ones we have at Nuby. But, there are some other factors that should be considered, such as how well insulated the bottles are, the material used, and how suitable they'll be as your little ones head off to school.
Here, we've created a list of the six best water bottles for kids and toddlers to make the decision easier for you.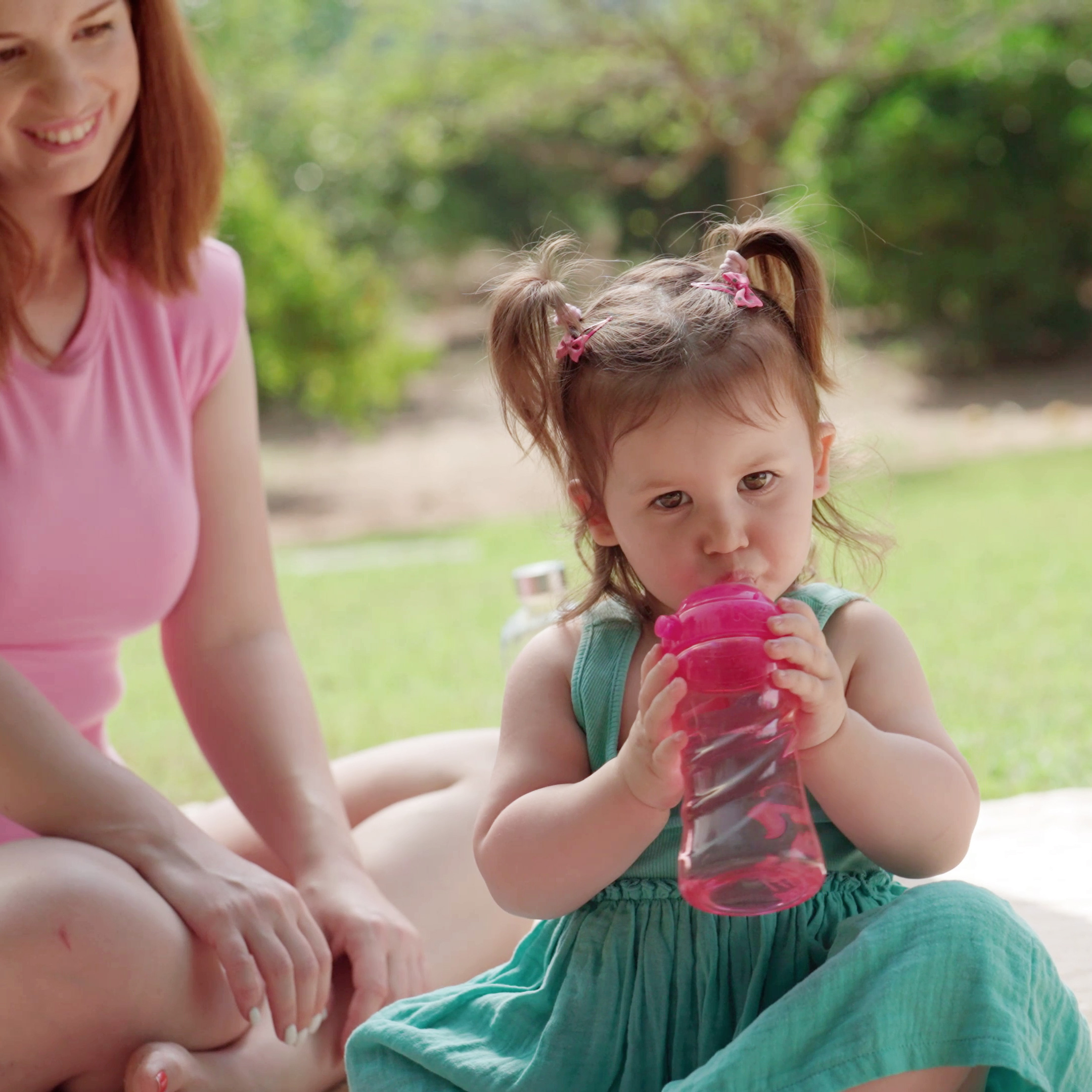 Best Insulated Water Bottle for Kids
A well-insulated water bottle can keep your liquids either hot or cold for the day. On a chilly winter walk, a warm drink can keep your child nice and toasty. Or, on a sunny trip to the beach, an insulated water bottle will keep their drinks ultra cool and refreshing. Our Thirsty Kids REFLEX Stainless Steel Travel Canteen can keep drinks cool for up to 10 hours, making it the perfect choice for when you're on the go. Plus, with a cap engineered to prevent drips and spills, you won't need to worry about any leaks.
Best Lightweight Water Bottle for Kids
More often than not, your child won't be holding the water bottle. Instead, it'll be in your backpack, in the stroller, or being carried by yourself. So, a lightweight option is best. Of course, when your child does carry and drink from their water bottle, they'll also need it to be lightweight to make it easier for their smaller hands. Our Thirsty Kids Sip It Sport Beginner Travel Cup and Thirsty Kids BOOST Flex Straw Water Bottle hold 12 oz of liquid, making them super lightweight and perfect to travel with.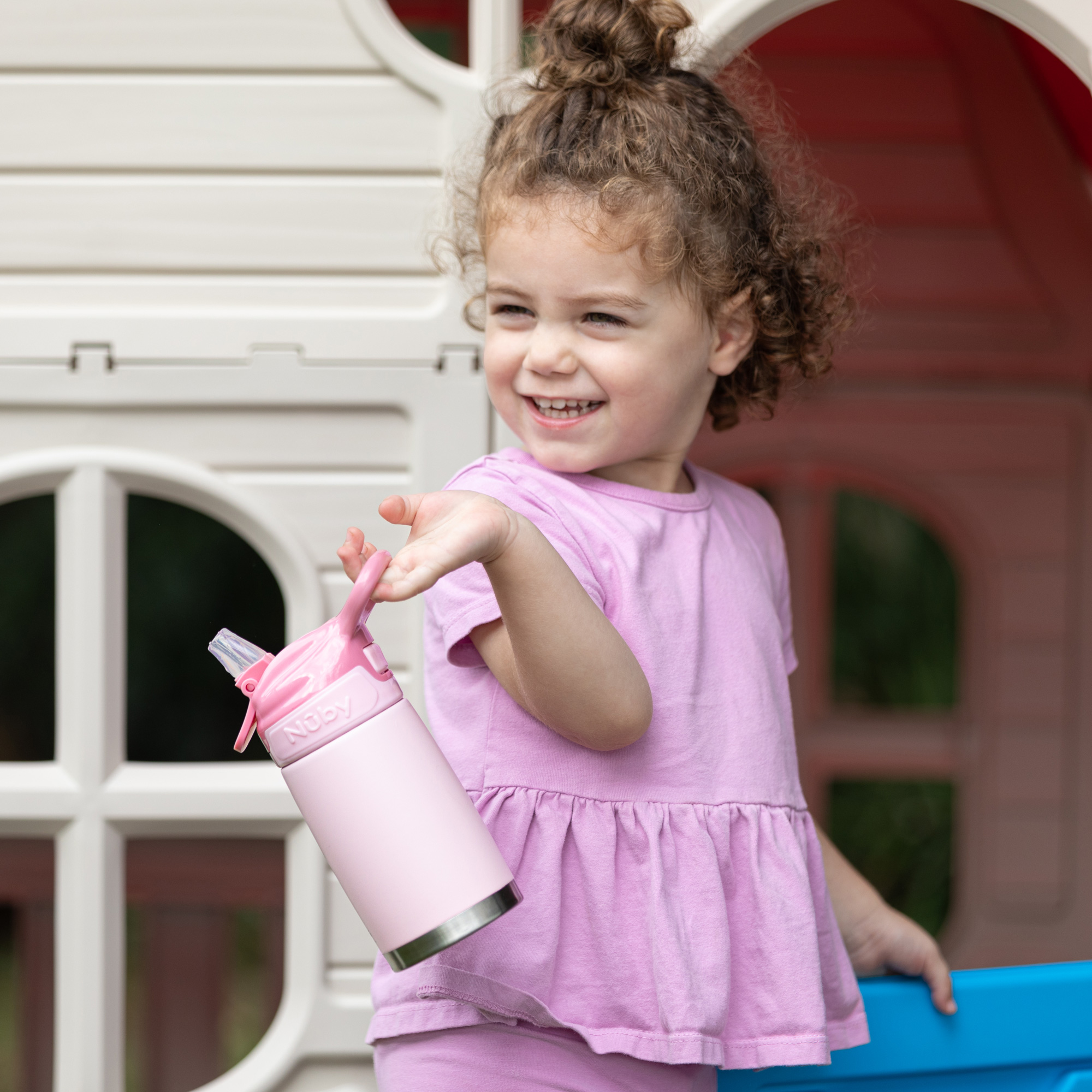 Best Stainless Steel Water Bottle for Kids
Kids can be clumsy, and if your little one is constantly dropping their water bottle, either at home or when they're out, it may be time to consider a durable stainless steel option. Stainless steel water bottles can easily withstand careless hands and will last you for years to come. Our stainless steel cup, the Thirsty Kids ACTIVE Stainless Steel Canteen, is also well insulated to keep drinks cold while keeping furniture safe from condensation, easy to clean, and leakproof.
Best Water Bottle for Toddlers
As toddlers are new to drinking and may have only recently learned how to drink from a straw, you'll want a simple and comfortable bottle for them to use. The Thirsty Kids REFLEX Easy Grip Water Bottle is the perfect solution, as it features a silicone band that makes it easy for little hands to grip and a gentle spout for teeth and gums. They'll love using their big kid bottle, available in a wide range of fun designs and bold colors.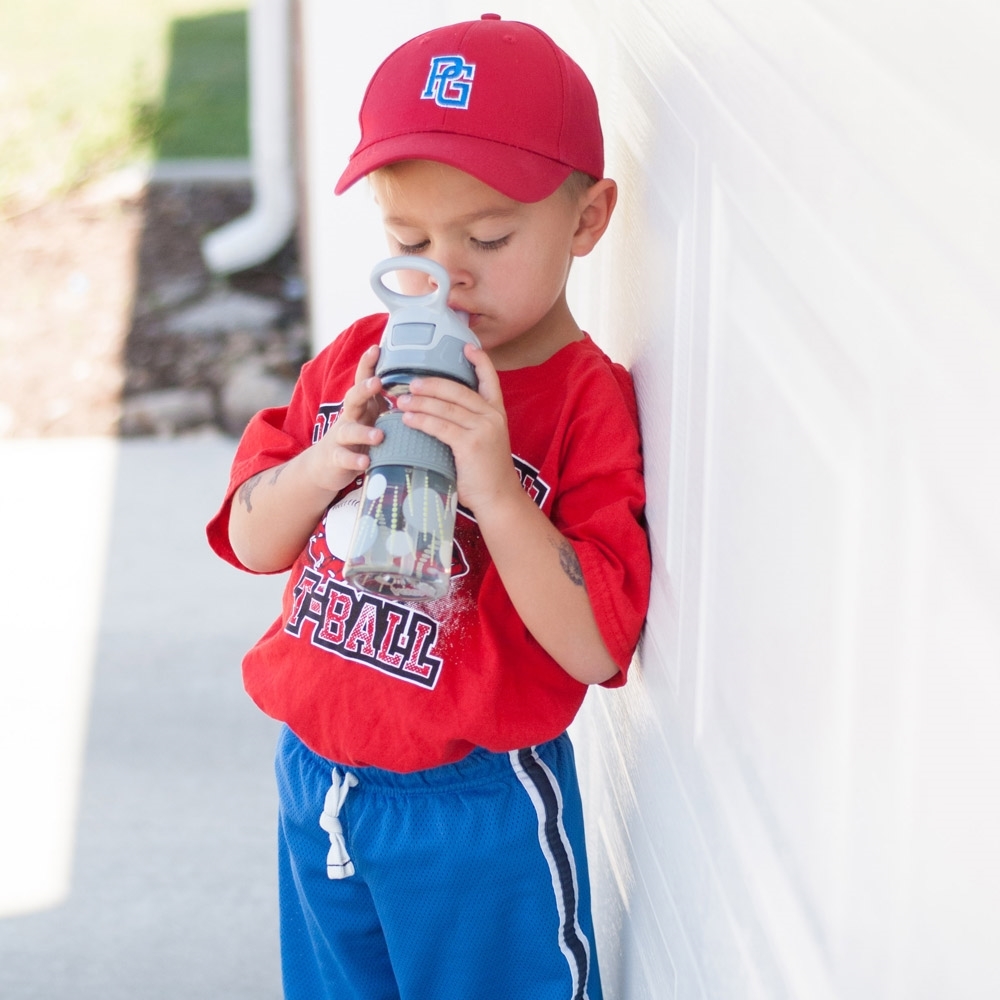 Best Water Bottle for Kindergarten
When your child starts school, the bottle they take with them will need to be easy to carry around and use unassisted, durable, leakproof, and fun. Our Thirsty Kids BOLT Soft Spout Water Bottle features a small silicone handle that can be held with just a single finger as they go from the classroom to the playground and a smart locking tab to prevent spills. This bottle also features an eye-catching unicorn and shark design that will be the envy of all other kindergarteners.
Best Water Bottle for Elementary School
Elementary school kids will need a water bottle that's sleek, practical, and cool. At this age, your child will likely want a more adult-looking bottle but still in a color that appeals to them and is comfortable to use. Once again, our Thirsty Kids REFLEX Stainless Steel Travel Canteen comes out on top as the best bottle for elementary school kids to use. You can't go wrong with this water bottle, available in 4 aesthetically pleasing colors, a no-spill cap when closed, and the ability to keep drinks cool for the whole school day.
For even more options, have a browse through our entire range of kids' water bottles, including our best-selling Thirsty Kids water bottle collection.
---