The options are seemingly endless when it comes to the types of cups to give to your child. And we're not just talking about the colors and patterns. Bottles, sippy cups, straw cups, 360 cups, open cups, weighted cups, spill-proof cups - the list goes on.
With an overwhelming amount of cups available, how do you know which cup will be best for your little one? Every child is different and will have different needs, so the cup you choose will need to be one that they'll find easiest to use to help them develop.
Here, we'll explain the differences between the most popular types of cups to help you decide.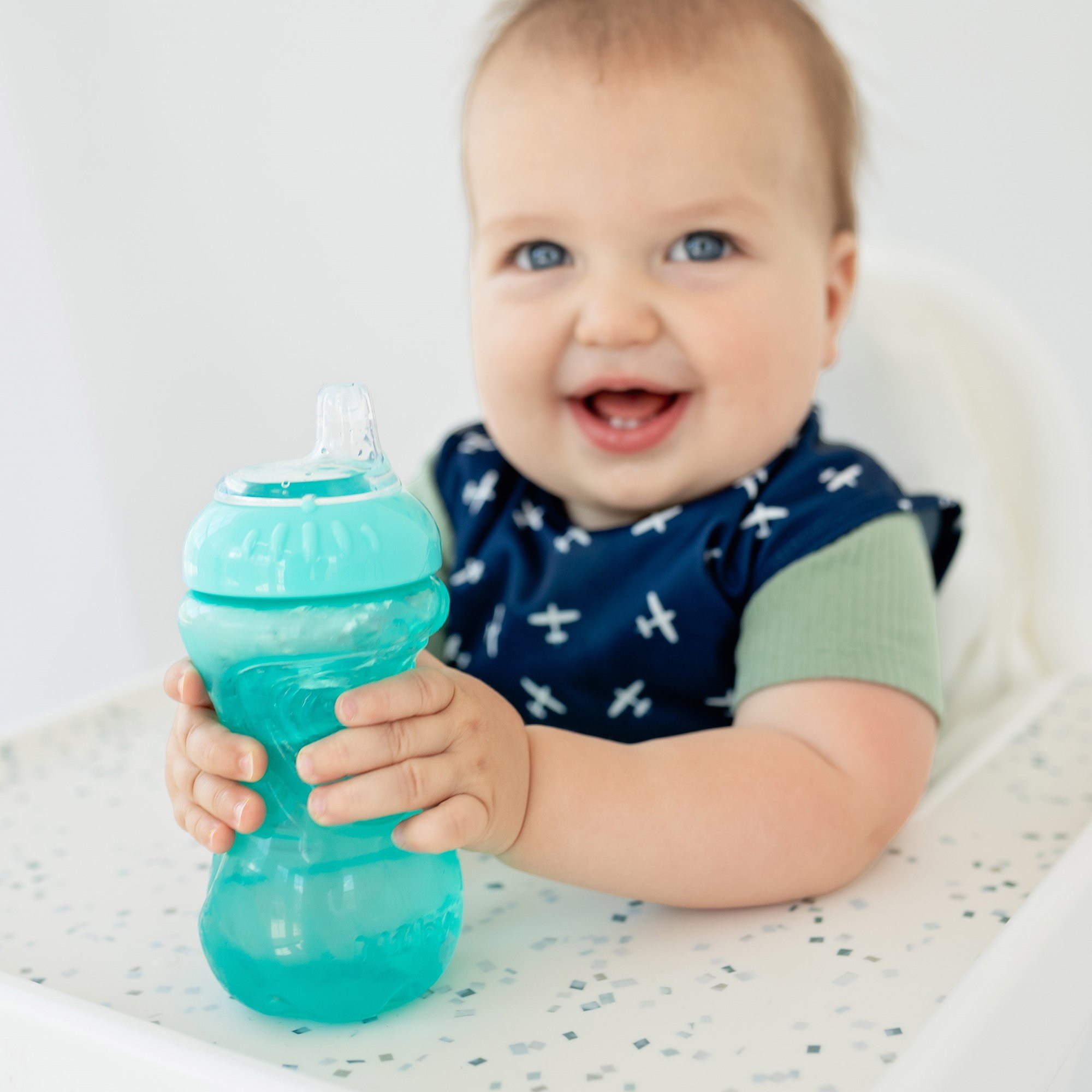 Sippy Cups
The sippy cup is usually the go-to choice when you make that first big move from a bottle to a cup. This is because of how easy they are for young children to learn to use, no matter if they've been breastfed or bottle-fed.
Sippy cups typically have a soft, silicone spout that makes it gentle on gums and emerging teeth. Some cups will have two easy-to-grip handles or be ergonomically designed to be easy to hold with little hands. Our training sippy cups, suitable for 3+ months, also have an interchangeable nipple and spout option to help ease your child into drinking from a cup for the first time.
They're also known for being leak-proof, easy to clean and travel with and often feature a weighted base to keep them upright, reducing spills…a parent's dream!
The only downside to sippy cups is that babies will still need to suck them to get any liquid, similar to a bottle. With prolonged use, this can lead to several health risks, such as tooth decay, misaligned teeth, delays in speech development, ear infections and unhealthy snacking behavior. Sippy cups should only be used as a temporary transition bottle as your child is weaned off the bottle and learning how to use a cup like a big kid!

Straw Cups
Straw cups are the step up from sippy cups that can help older babies and toddlers learn how to sip before moving on to an open cup. While straw cups may seem similar to sippy cups, as they both require a sucking motion, they can better help improve the muscles around the mouth and tongue and protect teeth alignment. This will help with their speech development and swallowing skills, which are needed later on in life for eating and drinking out of regular cups.
Straw cups often feature a soft and flexible silicone straw that's gentle on your baby's mouth and easy to use. Some cups also include a secure closing lid to prevent spills and the straw from getting dirty, like the ones in our Thirsty Kids range, which is better suited to children 18 months and over.
Just like with sippy cups, straw cups are designed to be easy to hold. Our popular Clik-It straw cups also offer smart, leak-proof technology with a locking mechanism that clicks when it's secure, so you'll know it's safe to travel without any risk of leaking.
The issue parents tend to have with straw cups over sippy cups is that they're slightly more time-consuming to clean simply because they have more removable parts, and straws can be trickier to clean than spouts. Straw cups should also be a temporary transition cup before moving on to an open cup.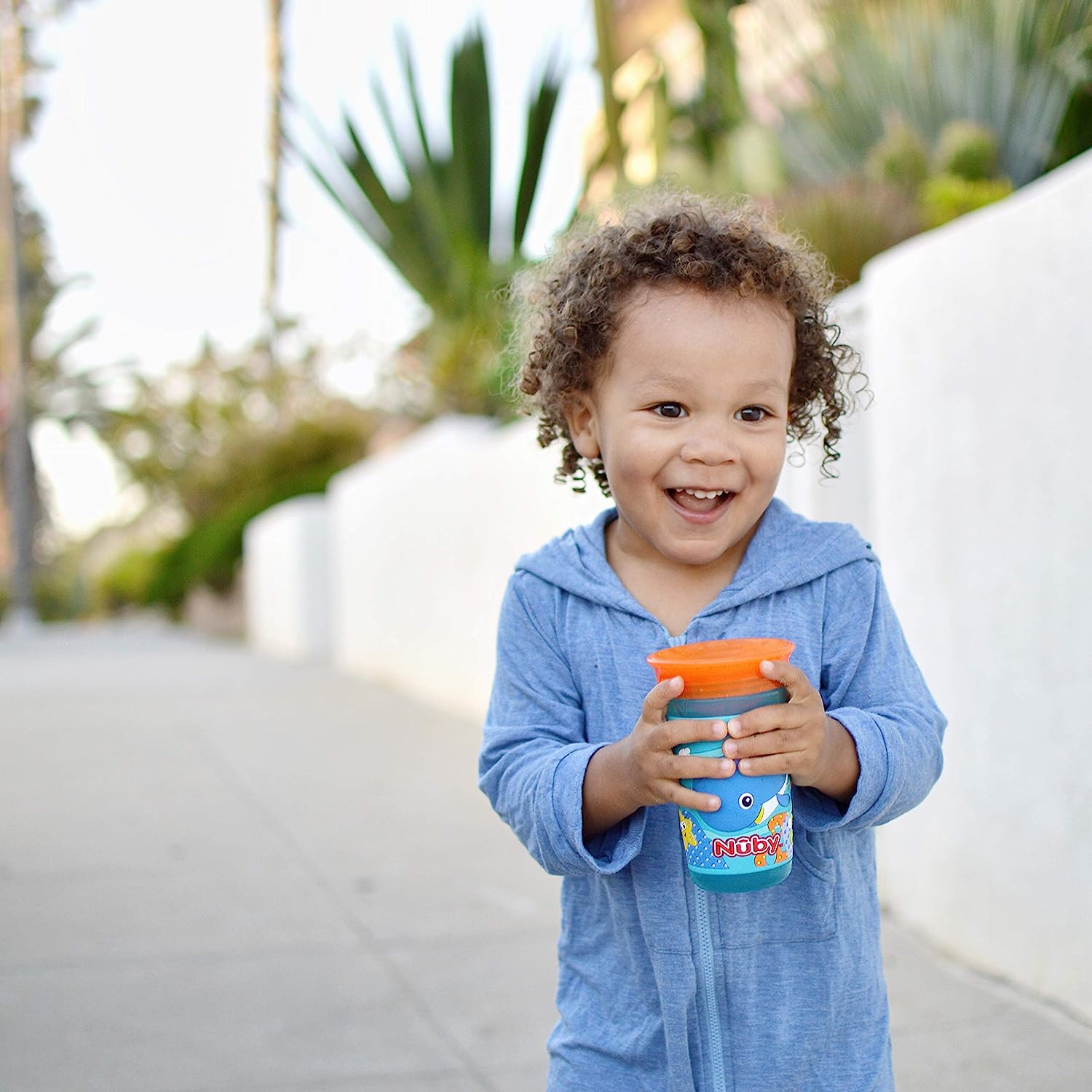 360 Cups
360 Cups are for when your child is ready to move from the bottle to an open cup. Usually, this can happen from around 12 months onwards. But don't worry if they're still using a sippy cup or a straw cup at this age, as every child develops at their own pace.
The 360 Wonder Cup is a revolutionary drinking cup that's perfect for the transition between bottle and open cup. With a leak-resistant design, this cup encourages natural drinking development with a soft silicone rim insert that can be sipped from all sides.
Since there's no straw or spout, just a 360 edge, very little sucking action is needed, which is much better for their teeth development and the strength in their mouths. During the transition, we'd suggest giving them this type of cup at every meal so they can use it while sitting upright. Make sure you're drinking from a regular cup, too, so they can see how it's done and imitate you.
While 360 cups have a leak-resistant design with a silicone seal that closes when your child stops drinking, there may still be some dribble accidents as they drink, so a bit more cleanup might be needed. But this is all part of the learning process, and soon enough, they'll get the hang of drinking from a cup with no mess!
If you're wondering what cups your child should drink from at each stage, have a read of our bottles and cups by age guide. We also have some great tips on how to transition from a bottle to a cup that will help you with this big milestone.
Browse through our full range of cups for babies and toddlers.
---